Harbor View Event Center is a Lake Superior waterfront venue with options to suit every event, wedding, conference, music and more.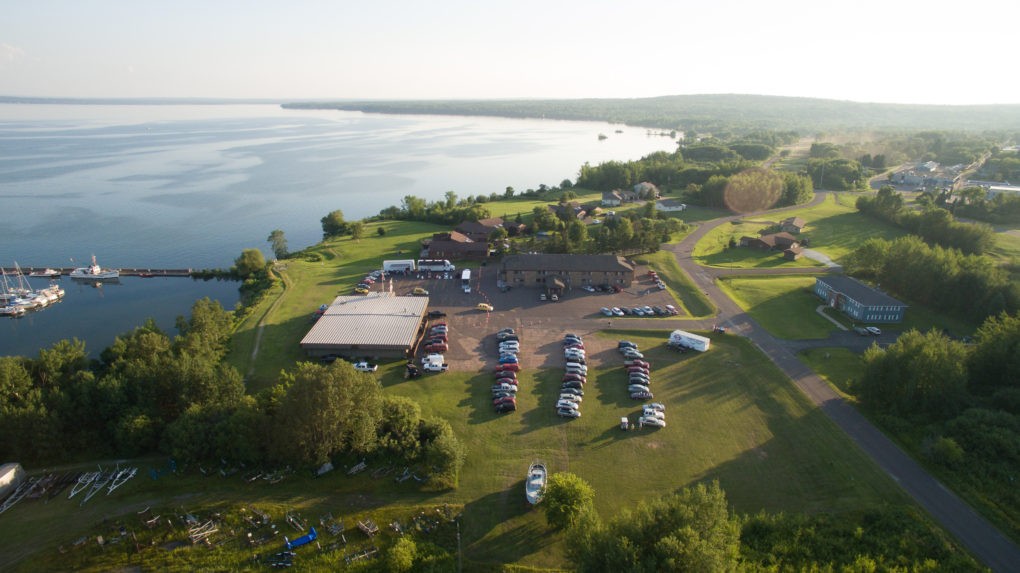 With sweeping views of Lake Superior, our charming  waterfront venue is an ideal backdrop for any event.
Weddings, Corporate Retreats, Seminars, Presentations,  Rehearsal Dinners, Birthday, Retirement, and Holiday Parties….
Comfortably host your event whether it's for 20 or 300 in our spacious lakeside hall, outdoor patio, and historic cocktail lounge.
Our Brunswick Bar originates from the 1933 World's Fair and steps out to our open-air patio.
With tailored beverage packages and your choice of caterer, your celebration will be a day designed by you.
"Stunning facility with gorgeous views and excellent staff. We especially loved enjoying cocktails at the historic and beautiful antique bar."
Michele Tegen
" A great new spot for an evening cocktail in a gorgeous bar, fantastic view and friendly staff. "
Kathryn Grafsgaard
"My wife and I were recently married at the Harbor View Event center. I must say, we're truely had a wonderful time and part of that was the setting. The center was affordable, the staff was capable and friendly, and Rose is one of the most thoughtful and professional people I have ever come across."
Brian Achuff
"beyond anything I was expecting!!"
"We just had our wedding at the Harbor View Event Center, and Rose was absolutely incredible to work with! First off, the event center itself is so gorgeous. The view of the marina and lake out all of the windows sold me from the moment we first walked in. "
Jenny Luppes
Harbor View Event Center
Calendar of Events
SUMMER 2018
HARBOR VIEW LOUNGE & LAKESIDE PATIO – OPEN WITH DINNER MENU
AND FULL BAR SERVICE
Wednesday thru Saturday 4-9
JULY 21ST
PRIVATE WEDDING
JULY 24TH
TONY WOIAK HISTORY FESTIVAL 7:30PM
Sata Ratkaisau: A Look Back at the Finn Settlement
Join Irene Blakely for a walk back in time down Friendly Valley Road at the junction with Niemisto Road to uncover the lives of the families who made up the 100 settlement, "Sata Ratkaisua". Music:  Jan Lee and Kris Edmunds
JULY 25TH
7:30PM
GUARDIAN RESOURCES JOHNSON LAW DINNER
JULY 28TH
WASHBURN BLOCK PARTY LIVE MUSIC! 3 WHEEL DRIVE 7-10PM
JULY 31ST
TONY WOIAK HISTORY FESTIVAL 7:30PM
"Ballyhoo!  Backstage!  Big Top Tent Show Memory Wars of the Song and Chance Man"
Lake Superior Big Top Chautauqua founder. Impresario and host Warren Nelson brings to the stage his 23 years of being top hat of this WI treasured tent show where his wit, humor songwriting and pen stood at the centerpole of Chautauqua's shows. Music:  Warren Nelson
AUGUST 4TH
NORTHLAKES EMPLOYEE PARTY
AUGUST 11TH
PRIVATE WEDDING
AUGUST 17TH
JAY HARRIS COMEDIAN 7:30PM Jay lives in Chicago, and works full-time as a comedian, while moonlighting as a financial advisor. His dream is to work 9-5 at offices everywhere. He's worked with such comics as Billy Gardell, Andy Kindler, and Greg Giraldo, and has entertained various divisions of the Marines, Army, Navy, and National Guard. www.jayharriscomedy.com Tickets prices are: $20 Tickets available at the Washburn Inn (715) 373-5671
AUGUST 25TH
PRIVATE WEDDING
AUGUST 31ST
LAKE SONGS & LIGHTHOUSES
7:30PM Wareen Nelson's original songs and stories about the majesty and beauty of Lake Superior, the Apostle Islands and Chequamegon Bay area…and including songs from "Keeper of the Light" Performing with Warren will be Randy Sabien, Otis McLennon, Jack Gunderson and Jan Lee. Ticket prices are:  $25 Reserved $20 general admission at the door Children age 12 and under $5 Reserve tickets at the Washburn Inn (715) 373-5671
SEPTEMBER 8TH
HOOF AND MOUTH DINNER AND DANCE
SEPTEMBER 15TH
PRIVATE WEDDING
SEPTEMBER 22ND
POLKA FEST
SEPTEMBER 29TH
PRIVATE WEDDING
OCTOBER 13TH
PRIVATE WEDDING
OCTOBER 20TH
PRIVATE WEDDING
OCTOBER 24th
8AM-8PM
SECURITY HEALTH MEDICARE SESSIONS
OCTOBER 25th
9-12:30PM
4-7:30PM
Bay Area Home Health Annual All Provider Meeting
OCTOBER 26th
8-4:00PM
Northwest Regional Wastewater Operators Fall Meeting
OCTOBER 27TH
STRUT YOUR MUTT and ZOMBIE BALL 9:00am Strut Your Mutt 5k 11:00am Undead Tred Scavenger Hunt 1:00 pm Bike Boogie 2:00pm Parade 2:30-4pm Kiddy Carnival (at Washburn High School) 4-6pm Cook-off 7pm  "Dead on the Floor " Dance and Costume Contest LIVE MUSIC BY NIGHT FLYER 7-10PM http://washburnchamber.com/events/washburn/washburn-events/zombie-days/
NOVEMBER 1ST
Social Hour 5:50-6:30pm
6:30 Meeting
7pm Dinner
WASHBURN CHAMBER of COMMERCE ANNUAL MEMBERS DINNER
NOVEMBER 8TH
BIG WATER FILM FESTIVAL 7pm Dinner
NOVEMBER 17TH
HOPE McCLOUD BOOK SIGNING AND COMMUNITY ORGANIZATION SPOTLIGHT
NOVEMBER 22ND
TURKEY TROT Race at 9am Click here to visit the Chequamegon Bay Area Community Fund
NOVEMBER 24TH
TRIBUTE TO LOST NATION STRING BAND Warren Nelson, Jack Gunderson, Randy Sabien, Ed Willet and Tom MitchellRace at 9am Click here to visit the Chequamegon Bay Area Community Fund
DECEMBER 1ST
2ND ANNUAL HOLIDAY BIZARRE 12-5pm 4PM Fashion Show Based on Christmas Movies
DECEMBER 8TH
PRIVATE WEDDING
DECEMBER 15th
DOORS OPEN 6:00PM SHOW STARTS AT 7PM
JAN LEE AND TOM MITCHELL PRESENT THE CHRISTMAS CAROL- A DINNER THEATER IN FOUR ACTS "VICTORIAN HOLIDAY DINNER" SERVED BY GOOD THYME CATERING
DECEMBER 31ST
NEW YEARS EVE CELEBRATION 8PM-1AM Adult Prom w/ DJ dB and Dinner Fun, Funky or Formal Attire welcome.
FEBRUARY 1ST to 3RD
NORTHWOODS YOGA RETREAT  HOSTED BY WASHBURN MEDITATION CENTER
MARCH 17th
JAN NEW DAY SHELTER BENEFIT CONCERT and DINNER
APRIL 27TH AND 28TH 2019
2ND ANNUAL BROKEDOWN BLUES FEST
AUGUST 2ND 2019
REHEARSAL DINNER